I'm pumped to be sharing my first monthly business report with you guys today. When I first started blogging and was trying to grow my income, I read so many blogger's income reports and found it so interesting and helpful. It gave me so many different ideas on ways I could grow my income and diversify my own blog income streams. And, I hope that these will be helpful for you guys too.
So, I'm not actually sharing my exact numbers with you guys… yet… maybe I will in the future, but honestly, it scares me a little bit to be that open—maybe I'll get there one day.
Despite that, I still think these breakdowns will be incredibly beneficial and helpful for you to see what percentage of my income comes from where and how it's growing and changing month to month. Since this is the first month, I don't have a comparison, but will show those in the future!
Let's get to it, shall we?!
January 2020 Business Report
For the sake of these emails, the numbers here are what I was actually paid out this month, not exactly what was earned that month. The reason for this is that it's hard to keep track of affiliates on a monthly basis because they're not paid out until 60-90 days later, and to me, income doesn't really count until it's in my bank account!
The first few months of the year are often elevated because I'm getting paid out for affiliates and collaborations from November and December, typically my highest earning months. You'll see that reflected in the months to come.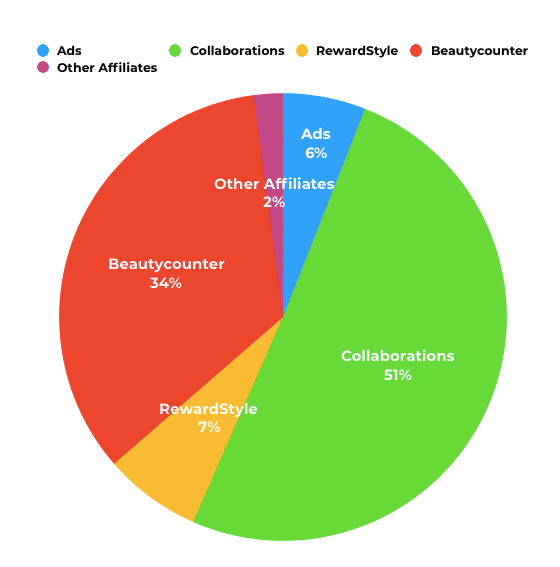 Ad Revenue-6%
I use the ad network Mediavine. While this isn't a big chunk of my income each month, it's an easy one. I literally set this up a long time ago and haven't touched it since. One of my goals this year is to boost this slice of my income pie because it's VERY passive. Pretty much the only way to boost your ad revenue is to boost your traffic. I'm testing out some new strategies right now and when I have solid results, I'll definitely share with you guys (more on this at the end of the email!)
Beautycounter-34%
Month after month, this becomes a bigger chunk of my income pie. If you haven't read my post on diversifying your income streams, you can read it here. This one was a more recent addition, but as grown more quickly than most other areas. I also love that this income stream continues to build on itself each month because of repeat purchases from older clients, plus the addition of new clients. That's something you don't necessarily get from affiliate links, which to me, makes this more sustainable than some of my other income streams.
Collaborations-51%
I did several collaborations during the holiday season, so this is higher than it typically would be this month, but that's how it goes with blogging, right?! I love that collaborations can give my income a big boost each month, but they're not always steady. Some months I'll have a really heavy load, and other months I'll have one. So, while it varies a ton and brings in great money, there's a reason I have so many other sources of income to help balance it out each month!
RewardStyle-7%
RewardStyle is my biggest chunk of affiliate revenue, but isn't a huge part of my income. Some months it's higher than others, and I think this month it was simply overshadowed by the blog collaborations being higher.
Other Affiliates-2%
This includes Amazon affiliates, Bluehost affiliate, Equilibria and Primally Pure. Because these collectively don't make up a huge chunk, I've lumped them together. If this changes in the future, I'll break it down more for you guys!
Other Things to Note
Expenses
This includes web hosting fees, Adobe CC, Canva, ConvertKit, Zoom, any business expenses, etc. The nice thing about an online business is that my expenses are pretty low, but make sure to keep good tabs on your expenses because you can deduct these for tax purposes. This will bring what you owe in taxes down.
Investing
I mentioned that investing is a way to grow your blogging income, and while it's sort of indirect, it's something I think is worth including. Setting aside a a specific chunk each month has become my norm. It automatically gets pulled from my bank account and put into my account with Betterment (a super easy platform for investing—believe me, I'm a dummy when it comes to stuff like this).
I've been adding $500/mo to this account and in 4 months, I've made $708 (not including the money I've put in, just what I've earned from the stocks I'm invested in). Not a crazy figure, but it's $708 I didn't have! And, I don't plan on touching this for a long time, so it will continue to grow faster and faster as this account grows. Obviously investing is not 100% guaranteed, and it falls some days, but overall, it's grown quite a bit since I opened this account in October and I'm pleased that I went ahead and did this.
I like to think of it as a future house fund, which makes me excited to add money to it each month!
What I'm Focusing on in February
Like I mentioned earlier, one area that I'm really focusing on growing is my traffic. This is a big focus for 2 reasons—one, it means more ad revenue which is passive, and two, more traffic typically means an up-tick in affiliate sales. The reasoning behind this goal? I have a toddler, and I'm pregnant with my 2nd. Anyway I can set my blog up to make more passive income, the better! I didn't really set myself up for a proper maternity leave last time, and this time, I'm not making that same mistake.
But how do I get more traffic?! Figuring out exactly how to get more traffic can be tough. Do we post more content? Share on social more? At the end of the day, a lot of the techniques I've heard or tried are exhausting and result in more work, which is exactly the opposite of what I want.

Pinterest has always been my number 1 social referral, but I literally focus ZERO attention on this each month. I simply pin my latest posts and don't think twice. After doing some serious research, I've come up with a little method that I'm going to start testing out over the next few months to see if it makes a difference or not. Of course, I will share those results with you guys. Remember that unlike Instagram or Facebook, Pinterest is first and foremost a SEARCH engine and a really great way to boost your traffic, especially for bloggers like us who create visually appealing content! Can't wait to share what I learn!
Okay, well that was longer than I expected, but I hope this gives you a peek into my business, what's working and what needs some work to inspire you to make changes in your own business!
Since this is new, I'd love to know if there's anything else you'd like to see in here—would traffic growth (Google Analytics) be helpful for you guys? Please let me know as I want these to be super beneficial to you!
P.S. Are you a member of the Facebook group?! Make sure to join here.